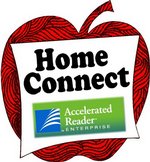 AR Home Connect
Renaissance Place (AR) is Now Online!
Though you can't take quizzes from home, you may access your account to check which quizzes you've taken and how many points you've accumulated to date. Check out Home Connect now! Use the Renaissance Place login you use at school to access your information.
If you want to see if there is a quiz available for the title you're reading, check out the AR Bookfinder by clicking on the link under Student Quick Links on the home page of the RMS site.